Green Graphitization Technology
Superior Graphite utilizes several advanced technologies to develop or influence the physical and chemical properties of a wide variety of graphite and carbonaceous materials. The choice of which technology to utilize depends on the type of graphite (natural or synthetic) and carbons to be treated, as well as the requirements of the targeted customer application regarding particle size distribution, shape, and morphology.
Our green graphitization technology is a unique, continuous purification technology that is environmentally friendly. Moreover, we offer years of operational experience and our purification technology is located at a new modern plant in the U.S. which offers scalable capacity.
Continuous Graphitization
Superior Graphite's unique technology for high-temperature treatment of carbonaceous materials is based on a resistively heated fluidized bed. This electro-thermal continuous process is used to consistently treat and/or purify natural flake and synthetic graphite, granulate calcined petroleum coke, and other carbonaceous materials at temperatures ranging above 2400°C. Our proprietary purification technology can consistently produce high purity of 99.98% carbon in large quantities. This process is characterized by the efficient removal of impurities from purging and homogeneity from fluidized bed mixing. It is also able to change crystallinity and pore structure, modify surfaces and synthesize novel materials.
FIG. 01

Green graphitization purification technology
New Modern Plant and Operational Experience
In November 2019, Superior Graphite opened its newest factory in the U.S.A incorporating the latest advancements and innovations regarding the technology we have operated proprietarily in our US and Swedish operations for over 40 years. This new plant offers lab, pilot, and scalable commercial capacity to address the growing battery anode market requirements, as well as requirements for other high purity applications.
FIG. 02

New modern plant with green graphitization technology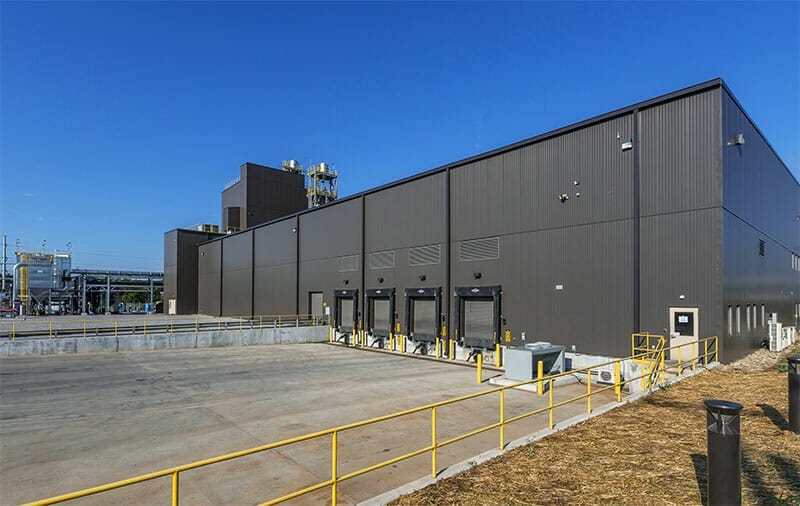 FIG. 03

Aerial view of the new plant
Our purification technology is an environmentally friendly thermal purification. It uses no chemicals, has small footprint and low emissions, yet it offers a high throughput.
Chemical-free process
No chemicals are used in our electro-thermal purification technology.
Small environmental and physical footprint
The process building and added infrastructure are utilizing small amount of space and emissions are very low.
Low water consumption
We use a closed loop system that requires small amounts of added process water.
Green power
We utilize power derived from hydro and nuclear sources.
FIG. 04

With the environment in mind
Dr. William Goldberger, one of the co-founders of our technology, pointed out its main advantages as follows: "Recent developments in high temperature furnace technology now make direct thermal purification a practical alternative to more conventional chemical methods, and it is of interest to establish the physical and chemical characteristics of thermally purified mineral carbons and graphites."
For more information, please contact:
Dennis Shannon, VP of Sales at +1.312.466-2852 or dshannon@superiorgraphite.com